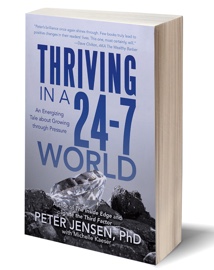 Thriving in a 24/7 World - Hardcover Book
$36.50
We live in a world where the demands we face as professionals, parents and students has grown exponentially, yet the amount of hours in a day has stayed constant. Many people turn to time-management strategies to keep up with the growing to-do list. But time is finite, and it's outside of our control.
Energy management, on the other hand, is within our control. It's about striking a balance between moments of high performance and periods of renewal. Getting enough rest and recovery, leveraging our stressors and enjoying the presence of our loved ones are positive actions connected to energy management. In Thriving in a 24-7 World, author and high performance expert Peter Jensen shows you how to manage your energy to not only perform better but also live a healthier and happier life.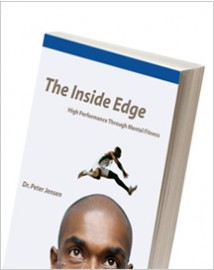 The Inside Edge Book
$18.95
The Inside Edge helps readers learn to develop the awareness and key Mental Fitness skills necessary to manage their inner world. This is a fascinating, comprehensive package of awareness techniques, inner skills, and practical mental preparation exercises drawn from Peter Jensen's extensive work with elite athletes and high level performers in business and health. These skills are for anyone who is in an environment where the need for excellence and pressure are equally present; anyone who faces the strain and challenges of today's fast paced work world.
For a quantity of 10+ please call.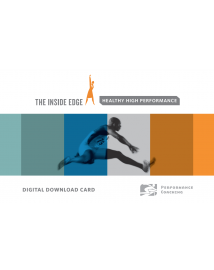 Inside Edge Audio Program
$24.95
An informative audio presentation delivered digitally that outlines the principles of "Mental Fitness." This program includes theory and exercises designed to develop skills that will assist you in transforming your personal energy into practical action and maintaining a high performance state in business and everyday life. Program components include:
optimism
attentional skills
imagery
energy
By purchasing here, you will receive an informative package with the Inside Edge model, and a card containing a digital download code that will allow you to download the material to your personal media devices. For a quantity of 10+ please call.
If you would like to instantly download the tracks and do not need the informative package - you can also find The Inside Edge on iTunes (Disc 1 and Disc 2).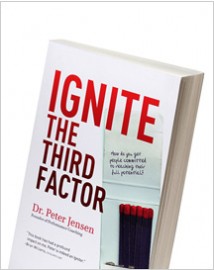 Ignite the Third Factor Book
$19.95
How do you get someone else committed to reaching their fullest potential? It's a question that challenges new managers and seasoned executives alike, echoes through coaches' heads as they watch a gifted athlete underachieve, and keeps parents up at night.
In Ignite the Third Factor, Peter synthesizes his life's work into the five core practices exceptional leaders use to ignite the Third Factor in themselves and others - whether it's in the locker room before a gold medal Olympic hockey game or at a routine performance review. Peter works through an easy-to-understand model, providing a clear view of what separates ''igniters'' from ''extinguishers'' and exploring a wealth of strategies you can put to use immediately in your world. Like the laws of physics, these principles apply in any environment. They may look different when used by a parent, a manager, or a coach, but the forces of work remain the same.
Ignite the Third Factor is a fast-paced journey packed with familiar faces, engaging stories, and humor. As he moves from the dressing room to the corner office and back again, Peter weaves insights from well-known Canadian, American, and British coaches and executives with his personal experience to provide a practical guide to helping others excel - all set against the backdrop of an exciting 30 years of involvement in the Canadian Olympic Movement.
For a quantity of 10+ please call.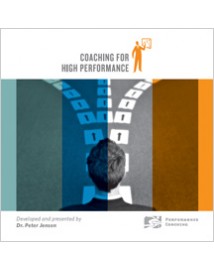 Coaching for High Performance Audio Program
$24.95
The bottom line in good coaching is the ability to empower individuals to high levels of performance. The critical factor in ongoing high productivity and long term health is commitment. Building and supporting commitment is what a good coach does best. The "Coaching for High Performance" program outlines the characteristics that distinguish a coaching style of management from other styles, providing a way of thinking about coaching that is clear, concise and easy to understand. Program components include:
Active Awareness
Key components of coaching
Effective coaching communication
You will receive a 2-CD set as well as a download digital code that will allow you to download the material to your personal media devices. For a quantity of 10+ please call.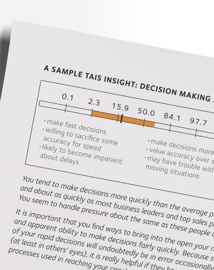 TAIS Assessment and Debrief
$750.00
The Attentional And Interpersonal Styles inventory (TAIS) was developed for use by Navy SEALs and Olympic athletes to help them optimize their performance under pressure by uncovering what they tend to pay attention to, and miss, under pressure, how they process information, how they make decisions, and 15 other key performance indicators. We've delivered TAIS to thousands of managers and executives. This price includes the TAIS assessment, a comprehensive individual report, and a 45 minute one-on-one coaching session with one of our certified and highly experienced TAIS practitioners.